Also available in 50 count bags here and 100 count bags here.
Named for their clean white shells, refreshing texture, and silky finish, the "Pearl" oysters have been described as the cleanest oyster in the Chesapeake bay inside and out.
Grown sustainably in top-floating bags, they never touch the mud and are pressure-washed upon harvest before bagging. Owner Daniel Vogt was named a Farm Aid "Farmer Hero" in 2016.
Source – Monday Creek, Hayes, VA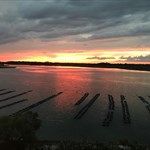 Big Island Aquaculture – home of "The Pearl" Oyster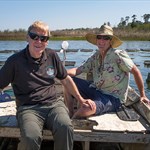 Father and Son, Farm Aid "Farm Heroes" – Bruce and Daniel Vogt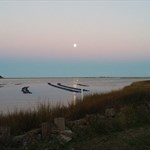 Full moon on the bay.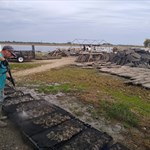 Upon harvest each order gets a complimentary pressure-wash for a clean finish, then bagged, tagged, and shipped to you in accordance with the VA Dept of Shellfish and Sanitation.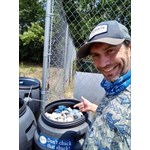 "DON'T CHUCK THAT SHUCK!" Please kindly FREEZE and RETURN your SHUCKED SHELLS to us here at Surfside Sustainable Seafood and we'll make sure they get RECYCLED by the Virginia Oyster Shell Recycling Program to make new reefs in strategic zones in the Chesapeake Bay!